Whether you have grown up in church your entire life, or this is your first time considering church, we welcome you to join our fellowship. No matter what stage of life you are in – single, married, with/without children, in a mess, or on track, we want you to know that you are valuable to God and to our community. We have a place for you to fit in, to meet new people, and to serve in ministry with us. We hope that you will visit us at FBC Clifton, and experience the love of Jesus Christ through our ministries and our church family.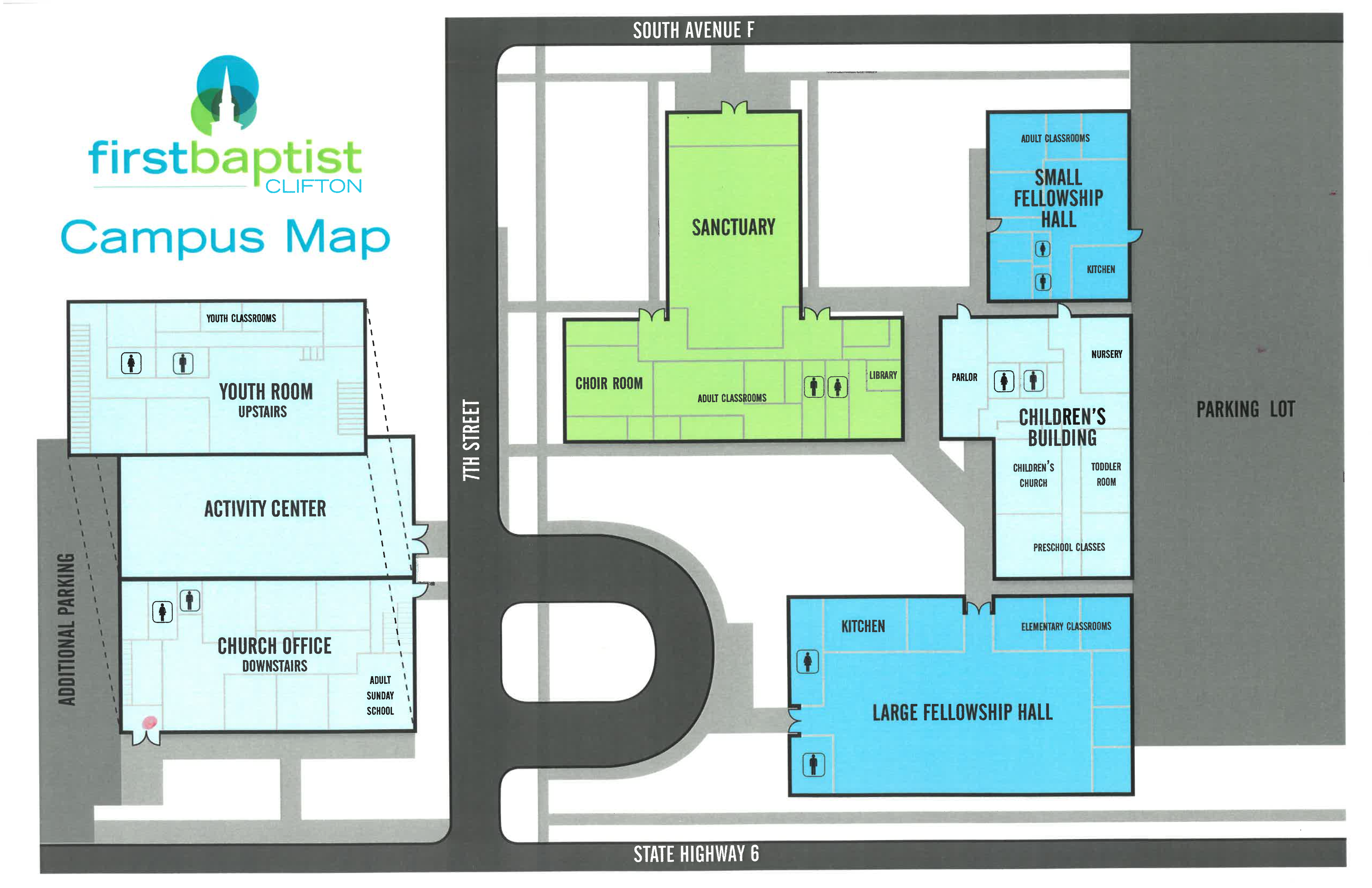 Questions about your visit
Where do I go?
Worship:
Worship is held in the sanctuary (green on our campus map).  The main entrance faces Avenue F.
Sunday Morning Bible Study:
Sunday School classes meet in every building on our campus.  Here is a list of our classes and where they meet.
Children (Birth-6th Grade) – Children's Building.  Entrance is in the breezeway between the Small Fellowship Hall and the Children's Building.
Youth (7th-12th Grade) – Upstairs in the Church Office Building.  Entrance is the west door facing 7th street.
Adult Classes take place in almost every building.  Contact us or speak to a staff member for more information.
What's a typical service like?
We are definitely a singing church at FBC Clifton.  Because we are a multigenerational church, we try very hard to use a mix of traditional hymns and contemporary songs.  We want our song service to feel fresh and relevant for everyone who comes to our church to worship!
What about children?
We have a vibrant children's ministry here!  Children are such an important part of our church family and we very much seek to make a positive impact on their lives.  We provide children with an activity sheet each Sunday to help keep them engaged during the sermon.  We also invite kids to join our children's minister at the front of the sanctuary during the worship service where she shares a brief children's message.
What should I wear?
You will find people wearing everything from suits to boots and jeans on Sunday mornings.  You do not need to feel the need to "dress up" to worship with us!
How do I get connected?
The simplest way to get connected is to just show up!  Our warm community welcomes guests with a smile and handshake.  We have Sunday Bible classes for every age group and we would love to have you visit a class or two.  If you choose to do so, you can fill out a brief information card that is located in our bulletin.  You can also request to receive our weekly newsletter (email) and you can sign up to receive Remind text messages to keep you in the loop!